Vote

Are you registered to vote?  Is your voter registration status current?  To vote in Huntington Beach and other cities in Orange County, California, you register with the Orange County Registrar of Voters whose website has a handy page where you can check your Orange County voter registration status online.
To vote in the California General Election on November 8, 2016, you must be registered by October 24, 2016.  Register early – it is easy and you can even fill out a voter registration form online.
Remember, you must re-register to vote if you move to a new permanent residence, change your name, or change your political party choice.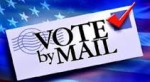 California voters also have the option to vote by mail rather than going to the polls on election day.  Huntington Beach and other Orange County voters can request that a mail ballot be sent to them – see the Orange County Registrar vote by mail website page.  You can even request a permanent vote-by-mail voter designation so that a mail ballot will be sent to you for every election.  Note that military members and civilians living overseas use the Federal Post Card Application (FPCA) for Absentee Ballot.  Remember that the voted ballot must be received (not just postmarked) by the Registrar of Voters no later than 8:00pm on Election Day.
Voters who have moved from one address to another within the same county and who have not re-registered may vote a provisional ballot at the polling place for their current (new) address, at the office of the county elections official, or at a central location designated by the county elections official.
Not sure of your polling location?  Find out where to vote in Huntington Beach at the website of the Orange County Registrar of Voters.
If you go to your polling place and find that your name is not on the official voter registration list, remember you have the right to ask for a provisional ballot.  See more about provisional voting.
Important Voting Dates
October 24, 2016 – Last day to register to vote
November 1, 2016 – Last day to apply for a vote-by-mail ballot by mail
November 8, 2016 – Election Day – Polls are open 7 am to 8 pm.
For more general information, voters may want to visit the California Secretary of State Voter Registration Frequently Asked Questions.